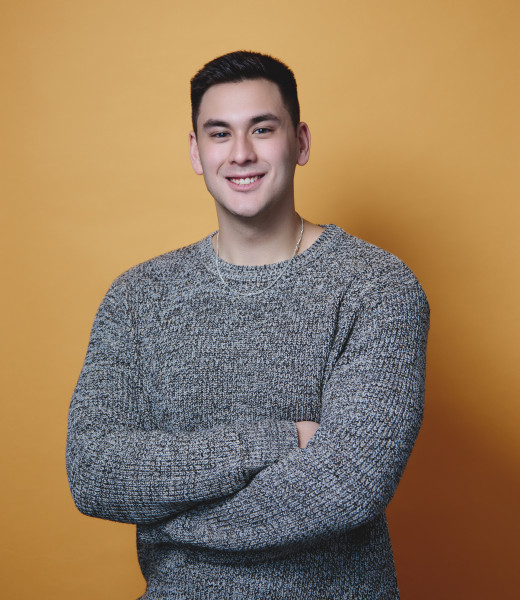 About Alex
Alex grew up in Sherwood Park, attending Brentwood Elementary, Sherwood Heights Jr. High School, and Bev Facey High School where he graduated in 2018. During his youth, both of his parents taught and coached at Edmonton Public Schools, meaning he spent countless hours at these schools, mostly in their gyms. This is where his passion for sport, specifically basketball, grew. After he graduated, Alex was fortunate enough to attend MacEwan University where he was captain of the Griffins Men's Basketball Team for four years from 2018-2022. Alex studied Professional Communications during this time and always had a passion for writing and public speaking.
Alex currently serves as Marketing and Communications Manager for the Edmonton Stingers. This role has kept him engaged in sports although his playing days are done. Currently with the Stingers, Alex primarily manages all digital marketing, external communications, content creation, and media relations.
Alex's proudest achievements are his four consecutive U SPORTS Academic All-Canadian distinguishments that he received during his time at MacEwan University.
Alex's connection to sports goes beyond his own enjoyment. Alex has always seen sports as a valuable asset for youth and their families and believes there is so much one can gain from sports outside of just competition and physical fitness. He is hopeful that he can push other pro and amateur sports teams to get involved with the Foundation in order to foster the growth of sports in public schools.
A few fun questions
Q: What is your favourite children's book?
A: In grade 8 I read the Hobbit for a school project and it was the first book I distinctly remember not being able to put down. When I was younger than that, I loved the Little Critter and Robert Munch books, but my favourite would have to be If You Give a Mouse a Cookie.
Q: What was your favourite subject in school and why?
A: Tie between P.E and English. Being able to play sports in the middle of the day is something I greatly envy at my desk job. I always enjoyed English for the reading and writing, and the creativity that was allowed in that class.
Q: Do you have a favorite memory from school?
A: Too many specific ones to choose from, but overall my grades 8/9 English teacher really cemented my love for literature and film in her approach to teaching. Her approach to teaching and student engagement made English exciting and fun, not just to myself but to my classmates too, most of whom were not as interested as I was. She was firm but not strict, which I believe is important for teaching the subject and making students engaged with the learning rather than it being a chore.